Okay, you all know I'm on WW, right?  Okay.  Well, it's hard! 
I'm not a sweet eater, actually I'm not a snack eater...I like food.  Real food.  Mashed potatoes and gravy.  Chicken and dumplings.  Ribs.  Lasagne.  Ravioli.  Anything with cheese, cheese, cheese.
But...I've found something to get me through.  It's a snack and it's cheesy!  And yummy!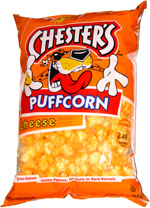 3 cups = 4 points of cheesy goodness!
                                            I love Chester!
Later,
Debbie